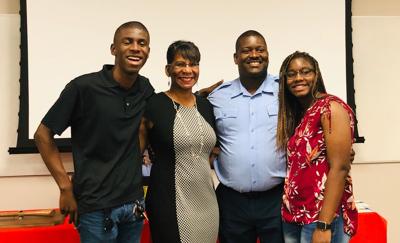 Education options have expanded dramatically in recent years, adding home schooling, charter schools and other new choices to the traditional public and private campuses.
The Johnson family of Temple was able to find a school that helped them by combining home-schooling flexibility with public-school curriculum structure.
Texas Connections Academy is technically a public school in the Houston Independent School District system, but its online classes are open to students across the state. There are no charges.
Teresa and Timothy Johnson enrolled Christopher, 16, and Olivia, 14, in Texas Connections Academy for several years. Although both are attending a more traditional physical campus in the fall, the Johnsons are very happy with their online experience.
"It worked really well for our family," Teresa Johnson said. "It's very flexible."
Johnson was so happy with the online classes that she served as a parent representative for the school for a time.
"My daughter started when she was in third grade and she's now a freshman — she'll be a freshman next year," Johnson said. "Christopher started when he was in sixth grade; he will be a senior this year, in the fall."
Although they communicated with teachers through video, calls and emails, Johnson said the family felt very connected to the school.
"We loved our Texas Connections staff and faculty — they were very, very helpful," Johnson said.
Olivia eventually decided she would prefer to be in a classroom with other students, so she transferred to Central Texas Christian School in middle school. Academically, her mother said, Olivia was well prepared for the private school.
"She actually told me that Connections was harder than Central Texas Christian School, so she finished her eighth grade year great," Johnson said.
Executive Director Lea Ann Lockard also emphasized that the Connections academic curriculum is demanding.
"The curriculum is rigorous, and our students are frequently in advanced placement and dual credit and things of that nature," Lockard said. "Many times online education is considered something that's going to be easier, and it is not."
This confusion about the difficulty of the curriculum might contribute to an area in which Texas Connections has struggled — graduation rates. According to Education Week Research Center, the school had less than 50 percent of students graduate within four years of high school in the 2015-16 and 2016-17 school years.
Lockard said Connections is not going to be the right fit for every student, and parents should consider whether or not their children are motivated enough to work independently, and if they — or another adult — have the time to supervise and coach a student through independent work.
"They absolutely need to research it, and really think about what is the purpose in coming," Lockard said. "If a student is struggling academically and they have low motivation, this would take a high degree of effort on the part of a learning coach, or a parent who is at home with the student, to help the student be successful."
But although the school encourages families not to rush into online schooling, it is committed to remaining open to any Texas student.
Before Texas Connections, the Johnson family first tried Temple Independent School District and then Temple Charter Academy. Neither seemed like the right fit for their children.
"I was tired of my children coming home and saying, 'OK, well, we didn't get recess today because the kids were bad' or whatever," Johnson said. "I was actually going to just do straight-up home school — do my own curriculum … and then Connections Academy popped up based on my search."
Lockard said that families choose Connections for a variety of reasons: some academic, some social or bullying-related, and some just a question of timing — a number of students will enroll for just a year while waiting to move on to another school they already have picked out but can't presently attend.
"Texas Connections Academy allows students to have more flexibility with public school, while they are able to participate in an environment that allows them to meet all state standards for a high school diploma," Lockard said.
Johnson said that while she has often heard concerns about the social cost of online schooling, her children had more extracurricular options because of the flexibility of their classes.
"In Temple, we have a very large home-school community, and so we were able to do a co-op with some of our friends," Johnson said.
The Johnson children were involved in sports at local private schools and joined organizations such as American Heritage Girls and Trail Life.
"We were very busy — it wasn't just, oh you're home doing school," Johnson said. "And it didn't really take eight hours to do school — people think you're sitting in front of a screen for eight hours and it's not like that at all. So, for us it allowed us to have family time."
The family also participated in field trips with other Connections families, and Christopher was in a home-school band.
"My kids were very social, very active," Johnson said. "It is what you make it, so we didn't have any issues with 'socialization' as they say."
The Johnsons liked the flexibility of the online classes, but they also liked maintaining the option of easily transferring back to another public school.
"It was more comfortable than going out on my own," Johnson said. "It was still going to be a public school system in Texas, so if I decided that oh this didn't work I could still plop my kids back in and they would not have missed anything because."
Christopher has had a number of typical high school experiences — sports, home-school prom and other activities, and his volunteer work throughout his high school career led to him being honored as a Central Texas Incredible Kid this spring. But for next year — his senior year — Christopher has decided he will follow his sister's example and attend CTCS.
"Christopher will now be able to go on a senior trip, and they're going to Colorado," Johnson said. "So where Connections gave us what we needed up to this point, my son was like, 'Mom, I really want to … have a senior class.' I couldn't give him that at home."
Christopher is looking forward to having shared memories with the rest of his graduating class, and walking across the commencement stage with his classmates.
Johnson said the process of enrolling at Texas Connections Academy is fairly complex, and can take as much as two weeks to complete. That process, she said, is a good way for parents to figure out if online classes will work for their children.
Parental support is important, although Lockard said families can designate another adult, such as a grandparent, neighbor or tutor, as their child's primary learning coach.
"Whenever I think about the Johnsons, that's a family that's very focused on their children progressing," Lockard said.
["source=tdtnews"]